A Look Inside My Decorating Toolbox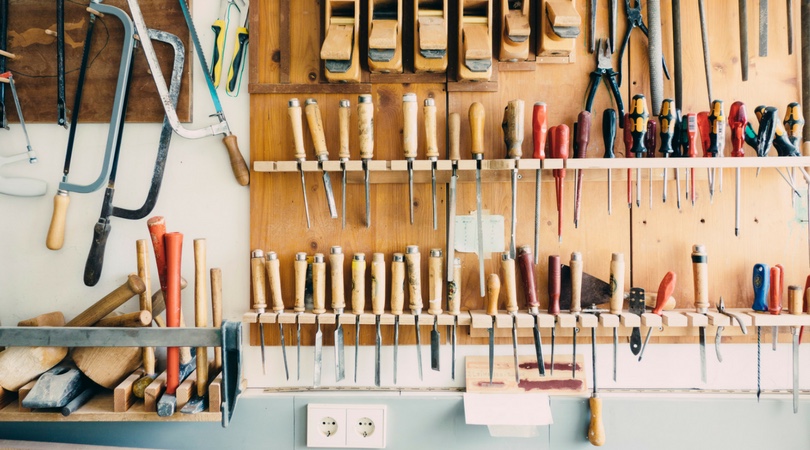 Happy New Year! December was the busiest month I've ever had, which may explain why I have been so quiet online. The organization promotion was a bigger hit than I could have possibly imagined. Over the course of the promotion, I took about 30 garbage bags of donations in for clients, and helped remove another 30 garbage bags full of trash and various forms recycling out of houses. That's 60+ bags, and approximately 1800 lbs of unneeded stuff that left homes!
– Find out where to donate or recycle your unneeded household objects – 
With all these spaces clearing out, I was privileged to hear about plans my clients had for their newly open spaces. Reading nooks,  updated living areas, a place for new family members and more. With that in mind, I'm sharing my favourite and most used tools for decorating and staging!
1) Levels – not one, but two or more. Hanging pictures, art, shelves, hooks etc is much quicker and easier with the right level. I always have one large level (4 feet+), one lightweight mid length level (18-24 inches) and one tiny little level (1-4 inches) on hand.  Working with the right size level makes jobs much simpler!
2) Command Strips – If I've been in your home, you've probably heard me suggest command strips. I love them! They're quick and easy to use, work on most frames and canvases and don't leave any damage on walls. If they don't come out perfectly, you can adjust them after their setting period for a perfect level, or start from scratch without having to patch holes. I always keep small and medium velcro strips on hand and usually have clear hooks and cord clips in my stash as well.
3) Cordless Drill and every bit under the sun – A cordless drill is essential for hanging curtains, heavy art, shelves and for anchoring furniture. I use a basic drill that we've had for years and it works perfectly, though I have a lightweight drill on my wish list for those days when I'm working above my head a lot.
4) Wall Anchors, Screws – My toolbox is FULL of a variety of wall anchors and screws in various sizes and weight capacities. Annoyingly, anchors usually come with round head screws and whatever I'm hanging seems to need flathead screws, so I carry hundreds of flathead screws that I can switch out as needed.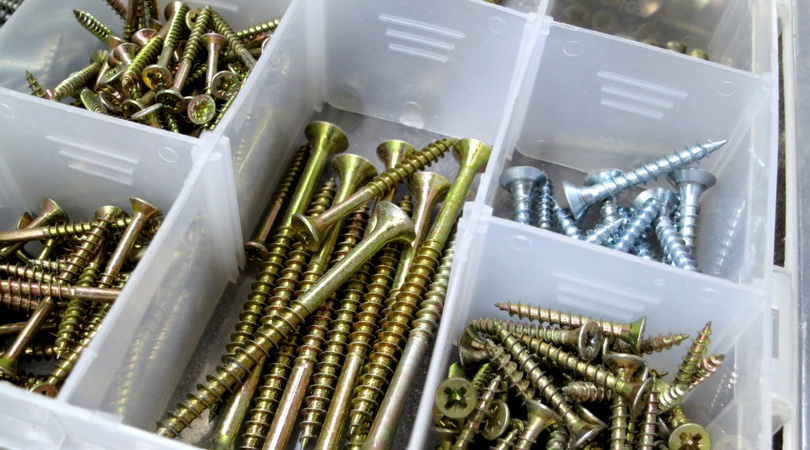 5) Picture hanging hardware – Command strips and wall anchors and screws are my preference for hanging things, but sometimes the only thing that will work is picture wire or a self levelling hanger, so I tuck a few in, in case I'm in a pinch
6) Multi-Screwdriver – A standard multi screwdriver, plus a ratcheting screwdriver keeps the right bit at my fingertips. I usually have 5 or more screwdrivers on hand at an installation because it saves me from switching every time I have new screws to work with,  but one will do the trick!
7) Hammer and various nails – Basic, boring must have!
8) Pliers and Wire Cutters – I keep both flat and needle nose pliers, as well as a wire cutters in my tool box and use them on almost every job!
9) Stud Finder – A stud finder takes the guesswork out of the job and tells me ahead of time if I need a large drill bit and wall anchors handy, or if I'm lucky enough to hit a stud when I need one.
10) Pencil and Eraser – For marking where to drill on the walls, for marking level, for quick calculations and more, you can spot my favourite pink sparkly pencil and extra erasers peeking out of my otherwise dull tool box.
11) So Many Measuring Tapes – I have them stashed in my purse, my van, my husband's vehicle and just about everywhere else you can imagine! Having a measuring tape handy at all times means that I can check sizing when shopping, measure client's spaces, measure 57″ from the floor to the centre of whatever art I'm hanging, and more.
If you need some help organizing, decorating, or making the most of your space, drop me a message here!
---