Born To Create
Ever since I was a little girl, I've loved to create. My mom was my biggest cheerleader, encouraging me to try new things and take risks. She showed me to how to work with imperfections and learn from my mistakes. Whether it was cluttering my Nana's kitchen table with art supplies, building blanket forts complete with furnishings, planning homemade gifts for family and friends, or rearranging furniture in my custom-made Barbie house (thanks Gramma and Grampa!)—I was always busy with a project. I love to create beauty.
My family will tell you (with a sigh and hopefully a laugh) that not much has changed since my childhood. It's a safe bet that, at this very moment, I have a coffee in hand and a podcast queued up as I tackle my latest project. And when my living room isn't taken over by my latest project, I can be found with good food and good friends, reading under a blanket, or spending a quiet evening with my family.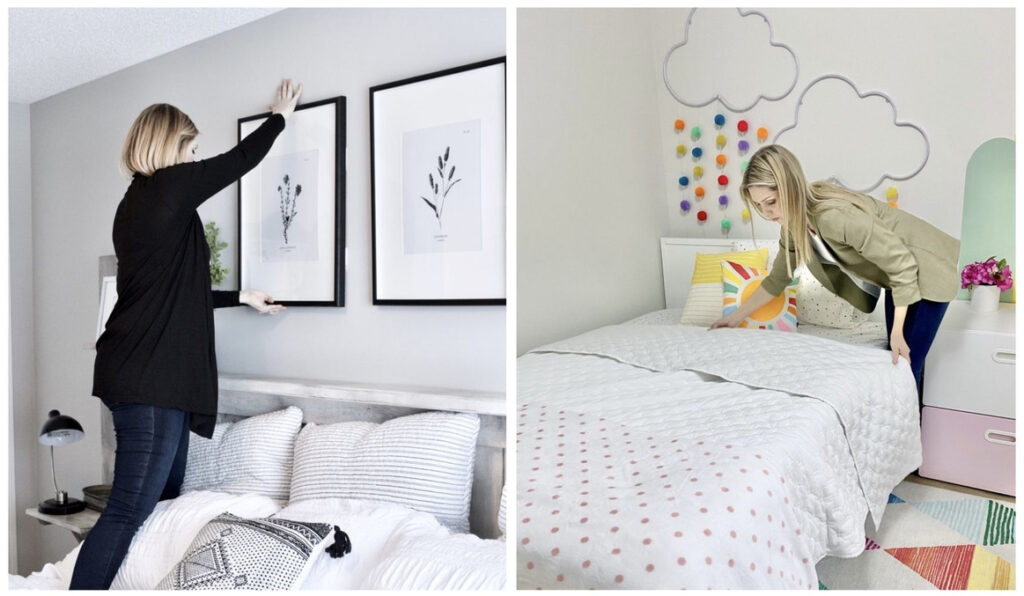 Serendipity
I discovered my talent for design and staging while preparing to sell my first home. The housing market was cold, and other townhouses for sale in my area were sitting on the market for weeks on end despite repeated price reductions. I knew I only had one shot to engage buyers if we were going to get the price we wanted. With a tight budget and long to-do list, I knew I had to transform the little townhouse on my own. I got to work and quickly found myself immersed in a craft that came quite naturally. I enjoyed the process, thought creatively about a prospective buyer's mindset, and overhauled the space in record time. Our realtor couldn't believe the change when he walked in the door.
That little townhouse sold within a week, for asking price. Our realtor was awestruck that the sale was so painless. He was so impressed that he asked me to consult with some of his other clients. Soon friends were hiring me for small projects, staging help, or room makeovers and in 2013 Freya Home was born.
I never imagined work could be so fun! I work with clients from all walks of life and on projects that vary greatly in cost. I particularly enjoy projects with tight budgets, small spaces, quick turnovers, or other interesting challenges—I love the creativity that comes from working within limitations! I believe that the spaces we live in affect our mood, energy, and way of relating to our family and friends in a very profound way. I am so honored to help my clients maximize the potential of their homes, improving their lives through happy, organized, and beautifully decorated spaces. I'd be honored to help you, too.


Want to learn more about Freya Home Interiors? Check out my Project Gallery or my reviews!