12 Handy Spots To Donate or Recycle Used Goods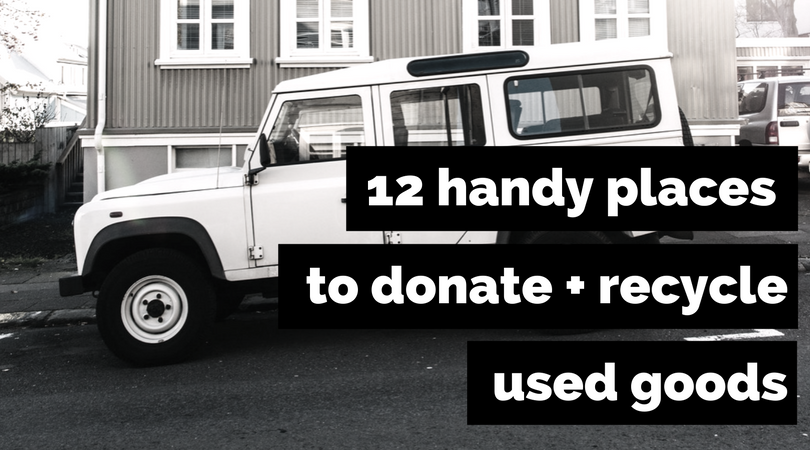 So, you've tackled that decluttering project, and have a pile of donations ready to go, but where can you take them? What about worn out towels or broken electronics? Do they really have to be thrown away? Here are 12 handy spots to donate or recycle used items:
Your nearest thrift store or donation bin. In general, I recommend donating the bulk of the items to the most convenient drop off location. If you don't drive or have a large load, there are lots of local charities that offer pick up.
Textile recycling at H&M. You can donate up to 2 bags (no size limit) a day and receive a $5 off your next purchase coupon. Any condition and type of textile is accepted. They will resell, reuse or recycle anything dropped off. Perfect option for threadbare sheets or a faded tablecloth.
Your local Syrian refugee centre for household goods and furniture. This is a great way to help newcomers just starting out.
Electronics recycling at Best Buy and Staples. Just toss it the bin and you're free!
Blankets, pillows, towels and stuffed animals can be taken to your local animal shelter or wildlife rescue centre. Make sure to call ahead and make sure they're accepting donations.
Homeless shelters for outerwear, blankets and unopened personal care items. This is a great opportunity to pass along any unused bath gift sets to someone who will really appreciate it!
Drop unopened, unexpired food in the food bank bin at your regular grocery store.
Charity book sales are a great place to send extra reading material. Calgary Reads is a great one!
Little Free Libraries or Little Free Pantries in your neighbourhood are an easy way to drop a handful of books or pantry goods, and share with your neighbours at the same time
Bring extra building supplies, furniture and hardware to the Habitat for Humanity ReStore.
Many cities have organizations that collect used sports equipment for kids who may otherwise not be able to afford to play sports. Calgary has the Comrie Sports Equipment Bank.
Your local Freecycle, Kijiji or Facebook giveaway group is an easy way to let items go, especially larger items like swing sets that are a pain to move!
---