Black + White Farmhouse Master Bedroom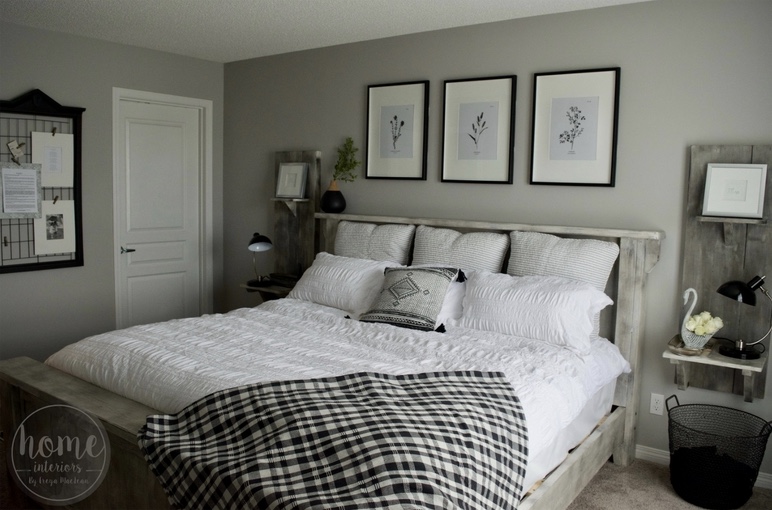 This Mother's Day weekend, I had the pleasure of making over a master bedroom for a lovely couple. With 4 children, including a baby, they were feeling overwhelmed by too many choices in such a busy season, but were eager to create a beautiful room. After filling out my design style quiz, settling on a black and white colour theme, and helping to pick the main furniture, they asked me to run with it. I love surprise makeovers (who doesn't?!) and couldn't wait to put it all together.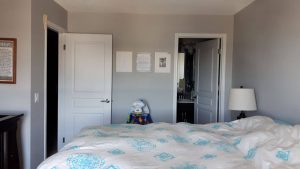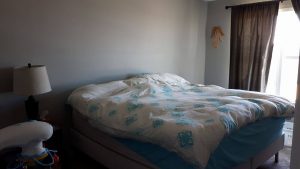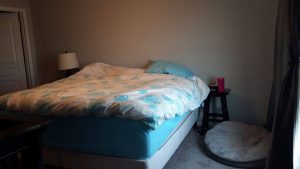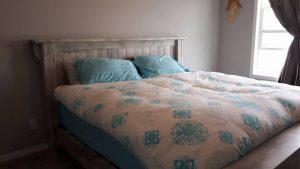 When the bed and nightstands arrived from the maker, we were surprised to see that the bed was far more grey than white. Since we were working with the existing grey walls, I knew creating contrast and using texture and pattern was the only way to make the black and white theme work. When I visited their home, I could immediately see that they gravitate towards a blend of modern and rustic, and I knew that the contrast between the two styles would help to add another layer of interest to an otherwise very "grey" space.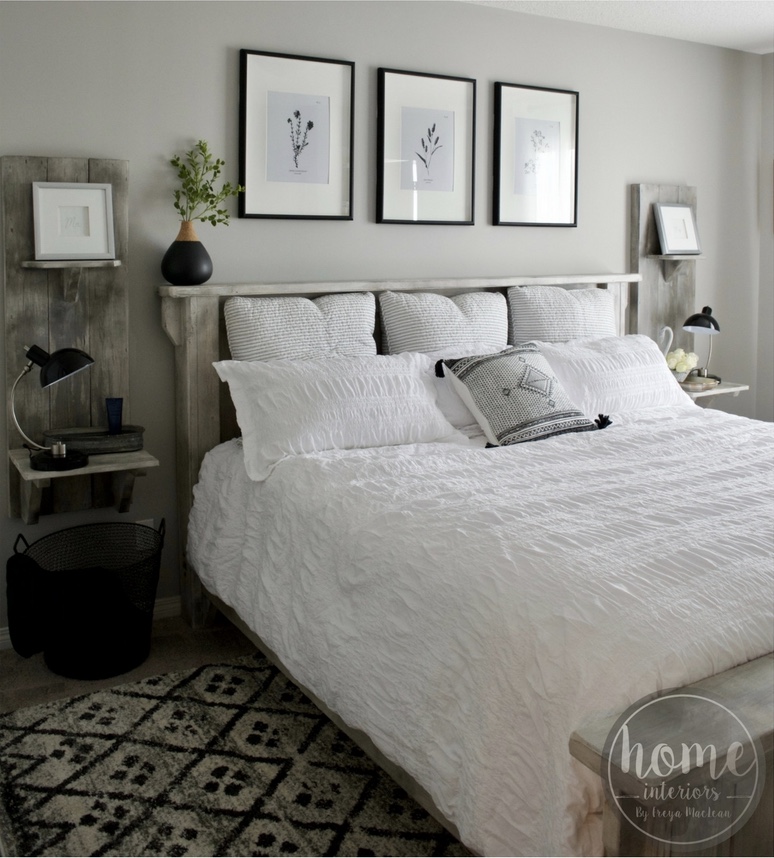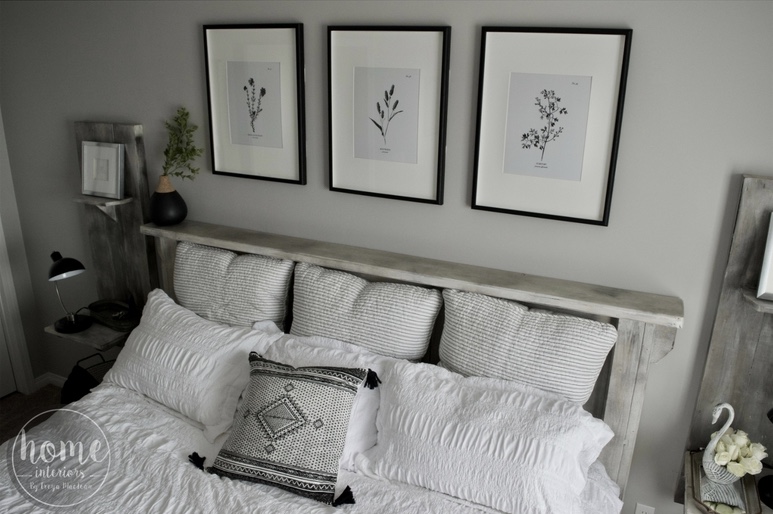 With the extra little top shelf on the nightstand, finding lamps in the right scale got a bit tricky. These glossy, black lamps add extra textural contrast, take up enough space visually so the scale isn't off, and fit easily under the shelf. On his side, I added a rustic galvanized metal tray and good quality faux greens. The cork on the vase holding the greens both gives a little pop and ties into a sentimental piece of art, a few angel wall hangings already in the room, and the new art by the window. On her side is a mirrored tray with an antiqued patina- a great mix of feminine and rustic. White roses in a chippy little swan planter add whimsy and femininity. Large, dark baskets under the nightstands create a space for extra pillows at night, anchor the eye and add more texture and contrast.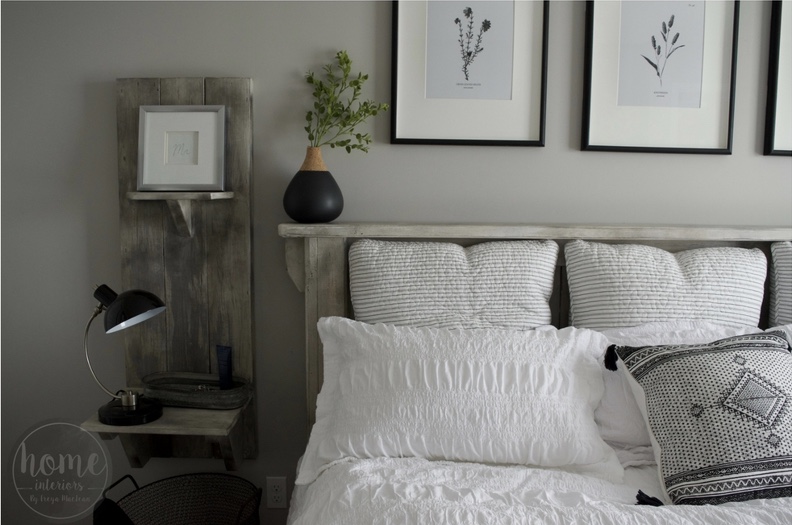 The art above the bed was my biggest challenge. I was determined not to spend more than $200. I knew I wanted black frames with generous white mats and black and white botanical prints. I searched and searched for something ready made and kept coming up empty. Eventually, I started looking at techniques for stamping real clippings, and tested out a few methods with disappointing results. I considered visiting a thrift store and looking for a garden book that I could photocopy pages from and then it dawned on me: free printables! I found some beautiful ones here, and simply printed them as black and white photos in the correct size at my regular photo printing store.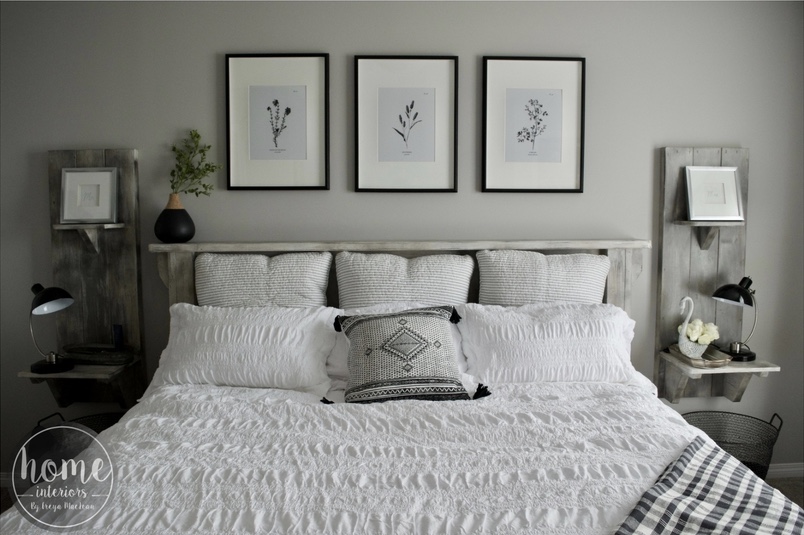 Lastly, the Mrs. had some sweet, sentimental papers hanging unframed on the wall, including their wedding vows and other romantic things. I had originally planned to frame them, but the room was getting pretty frame heavy. I came across a large rustic wood display piece with wire inside and instantly knew it was perfect. Now, they can add special things over time, and change things out easily.
The best part of the process was how excited their three oldest kids were for the reveal! Each of them were so keen to help carry things up and down the stairs and there was much running about and calling through the door to see if it was almost done. There was quite a flurry of excitement when they were finally allowed in! Later on, mom sent me a message saying she felt like she was staying in a hotel. What a great way to feel, when you walk into your room.
If you like this- check out this black and white French Country family room!
---